Doner named 2022 AdAge A-List Standout Agency
DONER THRIVES AT CORNER OF 'MODERN & MAIN'
Shop is a Standout Agency on Ad Age's 2021 Agency A-list
By Jack Neff. Published on March 14, 2022.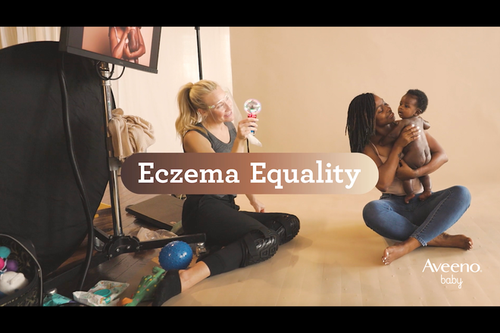 Credit: Aveeno/Courtesy Doner
The corner of "Modern & Main" has become valuable real estate for Doner.
See all of Ad Age's A-List 2022 winners here.
The slogan reflects the Detroit-based, Stagwell-owned shop's Main Street vibe and ability to unleash modern marketing tools—such as a data-driven approach—for brands that include McDonald's, Amazon and Netflix.
While Doner executives didn't disclose revenue growth, it's clear that business wins and new work from existing clients have been substantial. Wins in 2021 included Travelocity, Bloomberg and Cue Health. The last promptly queued up a Super Bowl ad project to massively increase the digital COVID-19 test brand's awareness (ranking second among all ads in the 2022 game at generating search traffic, according to research firm EDO).
Doner also won the Johnson's Baby and Aveeno Baby brands, promptly launching a new Aveeno campaign to introduce a broader conversation about racial equity while focusing on eczema care. Doner's Johnson & Johnson business already included Zyrtec and Listerine. Manoj Raghunandanan, J&J's president of global self-care and consumer experience, in a presentation last October pointed to Doner's work as a prime example of diverse teams creating diverse work that had an impact on share gains for Tylenol.
Doner is still a Motor City shop of course, and created Jeep's 2021 Super Bowl spot, "The Middle," featuring Bruce Springsteen, the Boss' one and only ad appearance. It generated huge buzz—75% of it positive according to the agency—despite the unearthing of a later-dismissed DWI charge against Springsteen.
"I think we've done a good job modernizing the agency and constantly evolving to stay a step or two ahead of where the world is going," said CEO David DeMuth. "Not a lot of legacy agencies like us have been very successful in that."
See all of Ad Age's A-List 2022 winners here.
Part of the re-invention is going beyond automotive—it comprises only about 15% of Doner's business now. It also means reaching out to new talent. Chief Talent Officer Katherine Moncrief, who joined last year from Deutsch, promptly helped set up a Chicago Talent Hub headed by Executive Creative Director Julio Desir.
Desir, among other things, led the #JBLGreekOut campaign featuring Milwaukee Bucks star Giannis Antetokounmpo that generated 8.8 million TikTok views, 6.4 billion impressions of all kinds and a 40% increase in visits to JBL.com.