Black History Month: Give Tribute
by Senior Multicultural Strategist, Andrew Lamar
An important part of our Diversity, Equality and Inclusion Committee is a commitment to celebrating the various cultures that are represented not only within our four walls at Doner, but also reflective of the consumers that drive our business and our clients' success. A way we recognize this commitment is through our Cultural Appreciation Series that highlights valuable contributions from women, LGBTQ+, Latinx and African Americans during key times throughout the year, such as Women's Month, LGBT Pride Month, Hispanic Heritage Month and Black History Month.
While many of our Cultural Appreciation initiatives in the past were driven by education as a means to engage our employees, we wanted to take a different approach this year to bring about a greater connection with these cultures across the agency. As a springboard to kickstart our new approach, starting with Black History Month, our goal is to encourage all of our colleagues to participate in a significant way to show that Black History is being created every day within our own lives and communities. This has led us to The Baobab Tree initiative.
This undertaking is a collaborative project which brings together multiple disciplines in creative, production, account, design and digital to highlight the key insight in the African American community of ancestral reverence, recognizing the shoulders we stand on and the responsibility to pay it forward. Giving back for African Americans is something that is not just embraced, but required, when we look at the significant sacrifices made by those who came before us to open the door for others to achieve greatness. With that in mind, we wanted to recognize not just famous individuals, but all those who have touched our lives in profound, personal ways.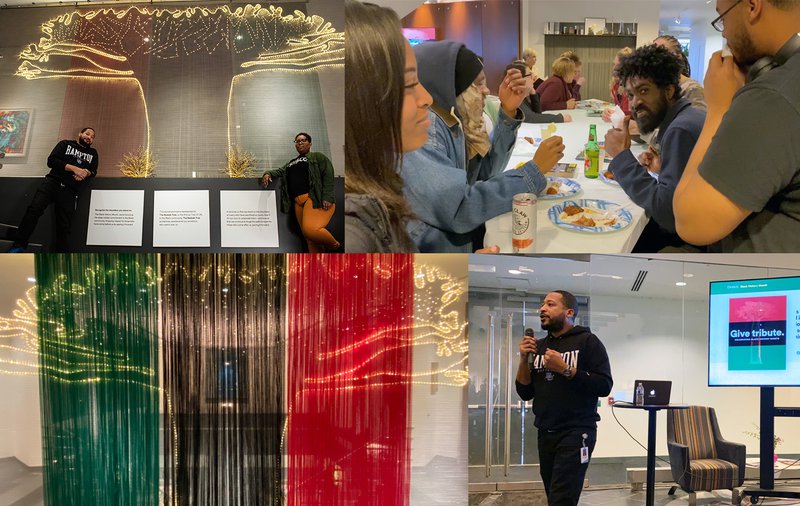 The Baobab Tree is a lasting symbol of this reverence and responsibility, which we brought to life in an artistic display that reaches to the top of our two-story lobby, greeting all who enter Doner's Southfield Headquarters physically, or virtually, through the website TheBoababTree.Doner.com. It invites our co-workers, clients and members of our community to tell the story of African Americans who have impacted their lives. Our Baobab Tree was designed much like the majestic tree it represents which lives for thousands of years — to be a lasting reminder of the promise to pay it forward in recognition of all who have given of themselves and inspired us to be better.