Doner Partners Network Proves the Effectiveness of its Model in its Second Year
The agency is a Standout on Ad Age's 2023 Agency A-List
Back Row: Mike Geiger, Gabrielle Zucker, Ben Grossman, CEO and Chair David DeMuth, Krista Webster and Naveen Passey.
Front Row: Dritan Nesho, Albert Yue, Catherine Marcolin, Kathy McCuskey and Jeb Blatt.
Credit: Doner

Two years after its launch, Doner CEO David DeMuth said the Doner Partners Network has started to find its "footing in working together."
The network is made up of shops including Doner, DonerNorth, Wolfgang (added to the network last October), Yamamoto, HarrisX, Veritas (which has its own content studio called Meat & Produce), KWT Global, Cahoots, Underground Digital and Dyversity Communications, acquired in April.
Last year, the network added 85 new clients and experienced 12% revenue growth, despite losing business with JBL. Some new clients include Edo Japan, Liquid I.V. and Noom. Currently, 43% of Doner's clients are also serviced by another agency in the network.
"Last year it really became much more sort of pitching as a network team and winning," DeMuth said.
One example is DPN winning business with the Indiana Economic Development Corporation, which was led by Doner but drew on other agencies—KWT is handling PR and earned media and HarrisX will help define and measure KPIs, according to DeMuth.
Doner remains a workhorse agency for Stellantis. It helped the automaker's Chrysler Pacifica brand play off a popular influencer trend in which people post on social media about traveling the country in tricked-out minivans. Instead of fancy modifications, the brand focused on real family needs. The campaign led to a 143% increase in sales year-over-year, a 47% jump in brand consideration in just 6 months, and a 21% rise in ad recall, Doner reported.
Doner expanded its "Care without Limits" campaign for Tylenol by launching Spanish-language-first work on social and a "Dads without Limits" initiative that is dedicated to dispelling the stereotype that Black fathers are absent or emotionally disconnected from parenting.
Doner also found a clever way to convey a critical message for women who are victims of domestic abuse. The network created a custom supermarket display filled with bruised apples, each with custom produce stickers with information about abuse and the phone number for the Interval House Women's Shelter's 24/7 crisis line.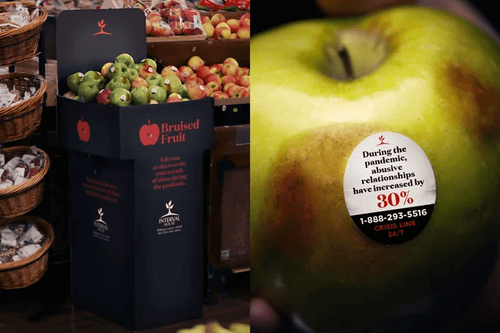 Credit: Interval House
Other Doner highlights last year included creating a Super Bowl spot for Cue Health in only eight days and launching the UPS Store into the metaverse.
By Brian Bonilla. Published on March 13, 2023.